From a young age, a spirit of service was instilled in WSQ's Charity Central Chair, Sheryl Anderson. A true 'Valley Girl', Sheryl spent most of her life with a view of Mica Peak.
After years of making Western and English riding clothes, she thought quilting looked like fun. A quilting class in 2000 got her going, and along with her mother she started attending WSQ meetings. Putting the group on the back burner until retirement, Sheryl said "I was drawn back wanting to share time with women that enjoy the joy of playing with colorful fabric." It wasn't long until she jumped right in and started to help organize fabric with Charity Central.
Until recently, she led a committee of 12 quilters who create kits, organize the extensive WSQ donated fabric stash, and complete quilts for distribution within our community. There's one honorary committee member Sheryl couldn't thank enough, her partner Terry. Sheryl said, "I couldn't have outfitted the cargo trailer or hauled tons of fabric around without [him]. He is well known to be pushing a hand cart stacked with bins or fabric. He's a great batting cutter and frequently is found picking up or dropping off quilts around town."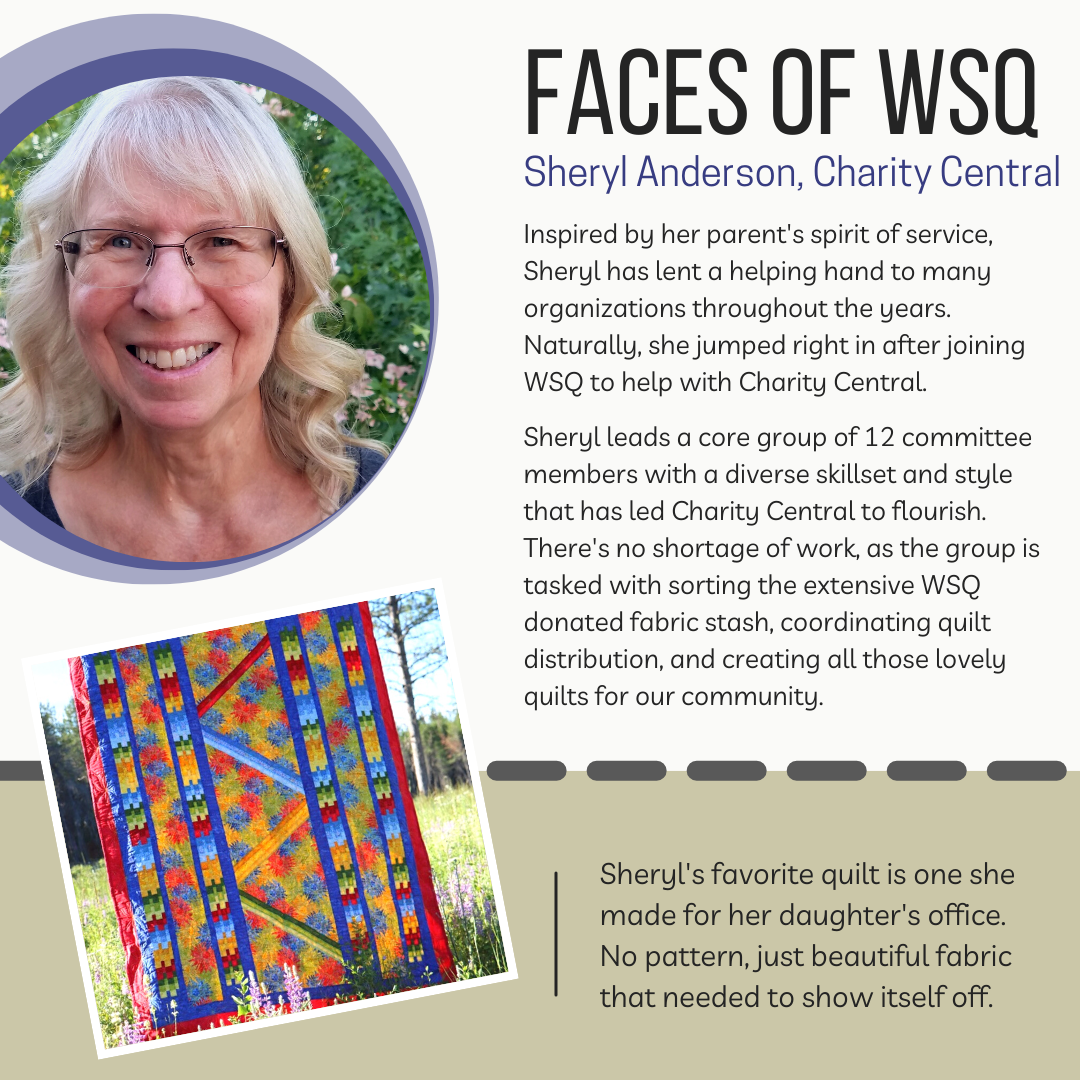 Sheryl Lea Anderson, 69, of Spokane Valley, passed away on February 12, 2023. Sheryl was born on February 17, 1953, to Donald and Sara (Leithead) Schweikert in Tacoma, WA. Sheryl graduated from Spokane Community College in 1974 with a degree in Inhalation Therapy Technology. Sheryl was employed by Valley Hospital Medical Center for 41 years as a Respiratory Therapist and retired in 2015 as their longest-tenured employee. After retiring she enjoyed many adventures via motorcycles, boats, and Corvettes, most recently she immersed herself in time spent with grandchildren, traveling and camping with her partner Terry Shaffer and quilting for Washington State Quilters and Charity Central.
She was preceded in death by her parents and younger brother Craig. She is survived by brother Kent (Diane) Schweikert of Olympia, WA; brother Glen (Michelle) Schweikert; son Brett Anderson and children Liam, Porter, and Sydney; son Jeff (Jenna) Anderson and children Finley and Grayson of Boise, ID; and daughter Kirsten (Todd) Maser of Deer Park, WA.
A Celebration of Life will be held later in the Spring and information will be updated on this webpage: https://gb774.app.goo.gl/ZZ16m. In lieu of flowers, the family suggests memorials be made to the Idaho Central Spokane Valley Performing Arts Center (icsvpac.com) and WSQ Charity Central (wsqspokane.org/charity-central).